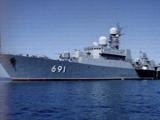 The country's navy border guards will be equipped with advanced boats soon, Iran's Border Police Commander Brigadier General Hossein Zolfaqari said on Tuesday, ISNA reported.
"Now, Iranian southern borders are in a good situation, although we need to improve safety in our navy boards. The advanced boats will join navy border guards in 2011and they are now in the test-phase process," he said.
Zolfaqari also said, "some unrests inside Iran are due to external issues and lack of stability in some neighboring states. Unrests in eastern, northwestern and western parts of Iran are rooted in moves by some groups including PJAK."
"The major base of the groups is abroad and members of the group use soil of neighboring states against Iran," he said adding, "due to some measures taken in borders, Iranian borders are entirely safe and secure and many terrorist threats in east, west and northwest of the country has been thwarted."
PJAK is an affiliate of the Kurdistan Workers' Party, or PKK. Ankara has expressed recent concern over the escalation of violence attributed to Kurdish guerrillas in recent weeks as the spring fighting season begins.
Iran has battled PJAK rebels and its affiliates in the PKK for several years along its northwestern border with Iraq.
Washington in 2009 froze the assets of the militant group PJAK because of its alleged ties to the PKK. The U.S. State Department, the European Union and Ankara include the PKK on their lists of foreign terrorist organizations.
/
Trend
/