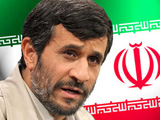 Iranian President Mahmoud Ahmadinejad's decision to merge several ministries and take the leadership to newly created oil ministry is politically motivated, said professor Reza Taghizadeh.
"President Ahmadinejad's decision to merge eight ministries into 4, including amalgamation of the Ministries of Oil with Energy, has more been political than being driven by technical reasons," Taghizadeh, a member of Trend Expert Council, wrote in an e-mail to Trend.
Late last week, Ahmadinejad dismissed Seyed Masoud Mir Kazemi and two other ministers. Reducing the number of ministries is part of a plan to reduce the number of ministers of Iran from 21 to 17, included in the fifth Five-Year Development Program, which began this year.
According to the decision of the Cabinet, eight ministries were merged into 4, including the Ministry of Oil and Energy. May 16, Ahmadinejad stated his intention to temporarily head the newly created oil ministry.
Taghizadeh said Mir Kazemi, the outgoing Minster of Oil, did not leave a positive track record behind in his job since his appointment since his appointment in 2009.
"He did not have background knowledge or experience in oil industries, said Taghizadeh.
Also he failed to bring any managerial skill to his new job, in way that it could turn around a declining rate of oil and gas investment in Iran or proceeding efficiently with Iran's carbohydrate production projects."
Taghizadeh believes it seems as though he has made this decision to fend off the parliament likely vote of no confidence to his prospective candidate to the job.
"He recently has been undermined by the leader and wanted to regain part of his lost authority at list within his own cabinet," he said.
In mid April, Iran's Security Minister Heydar Moslehi, resigned, which Ahmadinejad accepted, but because of the disagreement of the country's Supreme Leader Ayatollah Ali Khamenei, Moslehi remained at his post.
Supreme leader's disagreement with the minister's resignation after president's accepting the resignation and the preservation of the minister at his post take place for the first time.
According to the Iranian Constitution, the appointment and resignation of the ministers are the responsibility of the president, the supreme leader does not play a role in appointing ministers.
Taghizadeh said the decision to merge ministries of oil and energy has been rushed through without considering all aspect of it.
"Take over of by far a bigger ministry (oil) with different style of management by a smaller ministry (energy) was wrong and if the merge had to happen, would've been best of Oil was taking over the energy," he said.
Taghizadeh believes Ahmadinejad can not manage the ministry of oil on his own as Iran's oil and gas industries need full attention of a very skilled manager at the top, and Ahmadinejad has been the busiest man in his cabinet already.
May 20 Iran Guardian Council announced Iranian President Mahmoud Ahmadinejad's intention to temporarily head the Oil Ministry as illegal, Iran's Pana News reported.
According to Article 141 of the Iranian Constitution, person performing specific leadership responsibilities can not hold two posts simultaneously.
With regards to Iran's presidency to OPEC, Taghizadeh said Iran's presidency of OPEC is only one of many problems that Ahmadinejad's recent decision has created.
"As President of Iran it seems odd attending a minor job as President of OPEC too, he said. Iran has water for 36 years to get the first top job in OPEC and now should easily let it go, because the oil minister has lost his job and the caretaker president is too big to step in covering his OPEC position".
Ahmadinejad, who is temporarily heading the oil ministry, could take the presidency of OPEC, instead of former Oil Minister Mir Kazemi, Mehr news agency reported on May 17.
Vienna is to host the next session of OPEC on June 8. Iran has been leading the organization since January 2011 for this first time in three decades. According to reports, Ahmadinejad may either personally preside over the OPEC meeting or send his representative.
Iran was elected as the chairman country of the organization in September 2010 and from former Iranian Oil Minister Mir-Kazemi was the OPEC chair since January 1, 2011.
/
Trend
/