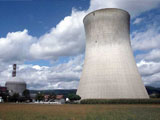 International nuclear safety experts started to monitor an ex-Soviet reactor in earthquake-prone Armenia on Monday after concerns raised by the recent disaster in Japan, officials said.
"The group of experts will be studying the operational safety level of the Armenian nuclear power plant," a spokeswoman for the energy ministry, Lusine Harutiunian, told AFP. The Metsamor nuclear plant, only 30 kilometers from the capital Yerevan and close to the border with Turkey, is located in a seismic zone hit by a massive earthquake in 1988 that killed 25,000 people.
The experts from the International Atomic Energy Authority's Operational Safety Team will report on their findings at the end of the month, the ministry spokeswoman said. Last week Armenian Prime Minister Tigran Sarkisian said that safety rules at the nuclear plant had been revised after the catastrophe in Japan.
Officials insist that the plant is not at risk in the event of an earthquake despite concerns raised by local environmentalists. The Soviet-era reactor was closed for five years after the 1988 quake until energy shortages caused the authorities to reopen it, despite objections from Europe and the United States.
Concerned over the plant's high-risk location and ageing facilities, the European Union in 2004 offered to provide 100 million euros ($141 million) in compensatory aid if Yerevan agreed to shut it down permanently.
But instead the authorities are planning to build a new reactor unit at Metsamor that will extend its life. Armenian officials insist that the landlocked and resource-poor country has no alternative because it relies on the nuclear plant for around 40 percent of its electricity needs.
/Hurriyet Daily News/