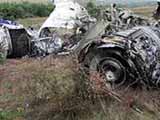 Iran said on Monday that technical problems caused Tupolev-154 aircraft crash in 2009, reported ISNA.
The crash killed all 168 aboard in July15, 2009.
"The plane fell down because of separation of one piece of the low pressure compressor from the first engine", a Civil Aviation Organization official Hossein Habibi said adding that the wreckage hit the plane body and disabled the fuel pipes.
The Caspian Airline Tupelove-154 which was heading to Yerevan crashed in Qazvin, central Iran. The incident came 16 minutes after it took off from Imam Khomeini International Airport near Tehran.
/
Trend
/