Former Russian Energy Minister Yuri Shafranik says he is concerned about the threat of a major oil spill in the Caspian Sea, Radio Free Europe/Radio Liberty's Russian Service reported.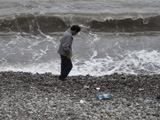 Shafranik at International Economic Forum in St. Petersburg last weekend said that any laying of pipelines or oil drilling in the Caspian must be strictly regulated and supervised. He said an oil leak even one-tenth the size of the spill in the Gulf of Mexico would be catastrophic for the Caspian Sea.
"The Caspian is unlike any other sea in the world," Shafranik said. "Unlike the Gulf of Mexico, the Caspian is a closed sea. It holds 80% of the world's sturgeon stock. Experts have continuously said that pipes must not be laid beneath the Caspian. And if wells are drilled it must be only under strict international supervision."
Plans for a Trans-Caspian oil pipeline have been in the works for several years but have yet to be finalized by a consensus of the five states that border the Caspian. The proposed pipeline would bring a projected 23 million tons of oil a year from fields in Kazakhstan across the sea to the already operational Baku-Tblisi-Ceyhan pipeline.
/Hurriyet Daily News/