Housecleaners who work without any social security-benefits or health care are uniting to demand their rights. Many have been injured on the job and lack respect for their work as well as employee rights.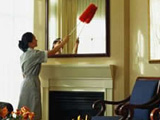 They believe 'housecleaning' should be defined as a profession under the law.
Gül Korkutan tried for years to come home silently when she returned from work, hoping to hide her occupation from her neighbors because she was ashamed of her job as a housecleaner.
"My husband used to ask me loudly why I was late when I returned from cleaning houses. I would tell him not to speak so loudly because cleaning other people's houses was a shameful job to me and to my neighbors," said Korkutan, 40, who has been employed as a housecleaner for 10 years but did not consider herself part of the workforce until recently.
The mother of four said the attitude toward housecleaners has changed in a positive way and she now feels she can openly reveal her job. However, housecleaning is still not considered a profession in legal terms and those employed as private cleaners cannot obtain social security or other rights granted to Turkish workers.
Serpil Kemalbay, the coordinator of the İmece Women's Solidarity Association, said many housecleaners define themselves as housewives. "They are the income earners in their families and they work almost five days a week. But when asked they define themselves as housewives," said Kemalbay, who is leading a project for housecleaners without job security.
The association has started a petition drive calling on Parliament to declare housecleaning a legal profession. "We will also demand that housecleaners have access to social-security benefits provided by the state," Kemalbay told the Hürriyet Daily News & Economic Review.
"Their occupation is not legally defined so housecleaners lack retirement rights and they cannot rely on social-security benefits should they become ill or be injured as a consequence of their work," she said.
Housecleaning has been traditionally been seen as a female domain, with working women often employing other women to clean their homes daily, weekly or monthly. Kemalbay believes the main problem with this pattern lies in the fact that patriarchal society defines the professional role of women as relevant only in relation to the home and to housework.
Korkutan suffers from a herniated disk but said she can only see a doctor when she has enough money. Her husband works as a driver but rarely earns money, so Korkutan is the main breadwinner in the family. Still, she does not receive any help from her husband in taking care of the children or doing the housework. "After work, I come home and clean my house and prepare dinner. My work at other people's houses and my own house is not seen as real work by my husband or by others," she said.
Although working with a cleaning company may seem to be a solution, many housecleaners believe the opposite is true. Yıldız Ay, another housecleaner who has been working in Istanbul for many years now, said working for a company decreases cleaners' incomes because they have to give a share to the firm. According to Ay, 44, there is still workplace insecurity and instability as well.
"When we find employers, we trust them since they are usually people who our former employers have suggested. Also, some of our friends who have worked in companies were exposed to sexual harassment by the householder," said Ay.
But cleaners also face problems when they work with their own contacts. Ay said in some houses, cleaners are given only stale bread to eat for lunch. "Our job is worthless regardless of where we do it, in our own house or in other people's," said Ay. "People say, 'This is housework, how hard can it be?' But it takes a whole day to clean a house – its windows, carpets, floors and all the rooms."
Korkutan agreed, saying, "The demands of female [employers] do not end. They always want us doing more."
/Hurriyet Daily News/