An inaugural meeting of Georgia-NATO Inter-Parliamentary Council was opened in Tbilisi on April 6.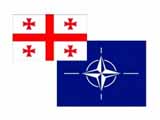 The Council was established to coordinate all NATO Parliamentary Assembly activities related to Georgia.
Members from NATO Parliamentary Assembly's committee on civil dimension of security, in particular from democracy, good governance and the rule of law subcommittee, are visiting Georgia to take part in the Council meeting.
The delegation plans to meet with Georgian State Minister for Euro-Atlantic Integration Giorgi Baramidze, State Minister for Reintegration Temur Iakobashvili and PM Nika Gilauri. Meeting with opposition representatives is also planned.
The delegation will also visit EU Monitoring Mission headquarters and its field office in Gori.
/Civil.ge/