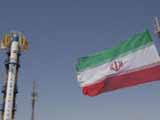 The first rocket that the West will direct to Iran will cause an attack by the Iranian missiles to the heart of Tel Aviv, Iran's Supreme Leader's Deputy Representative in IRGC Mujtaba Zunnur was quoted as saying by Fars.
Zunnur added that the Western countries can not recognize the current development of Iran.
"They know that the placing of the national satellite "Omid" on orbit brings Iran nearer to manufacture of long range ballistic missiles," he said.
/
Trend
/