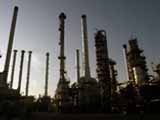 The UN Security Council's April programme of work was made public Monday with no mention of Iran's nuclear issues, although negotiations have intensified to impose additional sanctions on that country, Japan's UN Ambassador Yukio Takasu said.
But Takasu, the 15-nation council's president for April, said he can convene a meeting once those negotiations are complete and a draft resolution is submitted. Takasu said nuclear non-proliferation issues, including North Korea's, are in the footnotes for the moment.
The council's five permanent members - the United States, Russia, China, France and Britain - plus Germany have been discussing additional sanctions to compel Iran to abandon its uranium enrichment activities, which are suspected of ultimately producing nuclear weapons. Tehran has denied the charges.
Takasu disclosed that substantive negotiations have been held in parallel with the six countries, involving other council members. He provided no details because it would compromise his neutral position as council president.
But while briefing reporters about the programme of work, Takasu said that Tokyo makes "no exception" about nuclear issues, whether it concerns Iran or North Korea.
"Japan has extremely good bilateral relationship with Tehran, economic and cultural," Takasu said. "Only with nuclear issues, Japan does not make exception. We are the only country in the world that suffered nuclear destruction."
"Japan's basic position is to support the six countries to persuade Iran to cooperate with the International Atomic Energy Agency (IAEA)," Takasu said. "Right now, we have not seen any fundamental change (from Iran) to restore international confidence."
Takasu, who had successfully steered the council to impose sanctions against North Korea last year, said the council's main task is to dialogue with and pressure Iran to end its suspected uranium enrichment programme.
The six governments involved in devising new sanctions against Iran have so far not come up with any draft resolution. The council had voted three resolutions with sanctions against Iran in the past four years, but they failed to stop Iran from building more and stronger centrifuges to enrich uranium.
Tehran disclosed in February that it had begun enriching uranium at 20 per cent, which is the level of nuclear weapon capability.
/Trend/