Turkish Prime Minister Recep Tayyip Erdogan will travel to France on Tuesday to meet French President Nicolas Sarkozy and take part at the closing ceremony of the "Season of Turkey" events in Paris.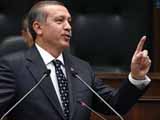 On Tuesday evening, Erdogan will watch the concert "Musenna", a music and dance show that combines European baroque and Ottoman music, which marks the end of nine-month-long Season of Turkey activities held to promote Turkish culture in France.
The "Season of Turkey" events began in July, 2009 and had a (positive) impact on relations between Turkey and France.
"Season of Turkey" events took place in 70 French cities and included over 400 special events to promote Turkey in France.
There were events in France on Turkish literature, music, cinema, theatre and visual arts during the "Season of Turkey".
Conferences and panel discussions took place in France to boost the trade volume between Turkey and France.
Among the most significant activities as part of the "Season of Turkey" activities was the dance shows of the Anatolian Fire dance group.
The Eiffel Tower, which has become a global icon of France, was lit up with colors of Turkish flag (red and white) from October 6 to October 11 under the ongoing "Season of Turkey" activities in France.
Turkish President Abdullah Gul and his French counterpart Nicolas Sarkozy inaugurated "The Ottoman Caftans" exhibition at the Louvre Museum and "Istanbul for Centuries" exhibition at the Grand Palais.
Also, Paris Mayor Bertrand Delanoe presented the key of Paris to Turkish novelist Orhan Pamuk, director Nuri Bilge Ceylan and photographer Ara Guler.
/World Bulletin/