The 4th international Economic Development Forum will be held in Tbilisi April 7-10.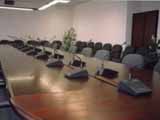 The delegations from 15 countries will participate in the event.
Such topics as employment assistance, business development, city branding, information technologies, development of tourism, energy sector and transport will be discussed.
Representatives from Armenia, Austria, Azerbaijan, Belarus, Germany, Spain, Ireland, Italy, Lithuania, Moldova, Poland, France, Czech Republic, Sweden, Holland and other countries are expected to participate in the forum.
/News.am/