The deputy head of Iran's Privatization Organization has announced that the country aims to raise some $12.5 billion by privatizing more than 500 state-owned firms.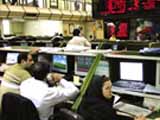 Mehdi Oqadayi said that 524 state firms will be privatized during the current Iranian year, which began on March 21.
He noted that the firms will be privatized through different methods such as being put out to tender or listed on the stock exchange.
Oqadayi stated that Bandar Abbas and Abadan refineries would be among the first companies offered for sale on the Tehran Stock Exchange.
The money raised through privatization of the firms will be spent on paying the state's debts.
/Press TV/