Turkish Foreign Minister Ahmet Davutoglu met with Iraqi Vice President Adil Abdul-Mahdi in Ankara on Monday.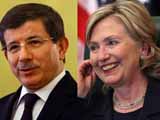 They discussed bilateral relations and the recent developments and the elections in Iraq.
Speaking during the meeting, Davutoglu said they expected political groups in Iraq to form a government with the widest possible representation embracing entire Iraq.
Davutoglu said Iraq's stability was as important as Turkey's own stability, saying that Turkey would continue to take a close interest in Iraq.
In his part, Abdul-Mahdi said Turkey was one of the important neighbours of Iraq, and the two countries made regular consultations.
He said Iraq was part of the region and was affected by the regional developments, emphasizing the importance of regional consultations.
Commenting on the recent bomb attacks in Baghdad, Abdul-Mahdi said the security issue concerned the entire region and required joint action.
Commenting on the elections, Abdul-Mahdi said political groups made certain progress towards forming a government.
/World Bulletin/