Georgia and five more countries will receive financial aid from the U.S. for participation in Afghan mission.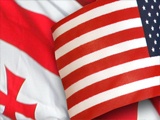 Georgia, as well as Lithuania, Latvia, Croatia, Estonia, and Hungary will be allocated USD 50 mln.
Tbilisi will receive USD 8.3 mln.
The sum is intended for keeping units deployed in Afghanistan, and encourage 1,300 soldiers of these countries, participating in the mission.
Georgia is the only NATO non-member allocated the aid from the U.S.
/Georgia Times/