Debates on the ruling Justice and Development (AK) Party's constitutional amendment package will begin this week.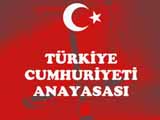 The Parliamentary Committee on Constitution will begin debating the package on April 7. Debates will continue till all 29 articles and three provisional articles are discussed.
The government's bill envisages amendments to 23 articles of the Constitution, and abolition of the provisional Article 15 of the Constitution.
The bill paves the way for trial of parliament speaker, chief of general staff, and senior commanders by the High Tribunal on charges of crimes they commit regarding their positions.
According to the bill, the Constitutional Court will consist of 17 permanent members. It actually has 11 permanent and four associate members.
Turkish parliament will elect three members in a secret vote, whereas the president will elect ten members from candidates of several state institutions and choose four other himself.
The Constitutional Court will not be comprised of three chambers, which was an amendment foreseen in the previous bill prepared by the AK Party last week.
The bill also limits the term in office of Constitutional Court members. It says members will be elected for 12 years, and no one can be elected to membership twice.
Also, citizens can make individual applications to the Constitutional Court.
The bill will also abolish the ban on right to general strike; paves the way for a citizen to become a member of more than one trade union, and the civil servants and other public officials the right to collective bargaining.
According to the bill, the Court of Accounts will make the financial audit of political parties.
A lawsuit to close a political party can only be filed with the votes of two-thirds of a committee to be set up by five members from each political parties represented at the parliament. The lawsuit can be filed under a request of the chief prosecutor of the Supreme Court of Appeals.
The Constitutional Court will not decide whether or not to close down a political party, but it can only decide whether to partially or to totally deprive a party of state assistance according to the importance of the act in question.
Under the bill, no one can lose his/her deputyship.
The bill also paves the way for trial of decisions of the Supreme Military Council.
Military courts will only be charged to deal with military crimes committed by military personnel. General courts will deal with crimes against state security and constitutional order, and civilians cannot be tried by military courts except war time.
/World Bulletin/