Iranian Foreign Minister Manouchehr Mottaki said Friday that Iran and Gabon strongly support the annihilation of nuclear weapons across the world.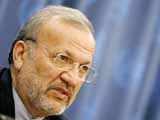 The top Iranian official, who is on a tour of Africa, said in Gabon that Tehran and Libreville shared the same view when it came to nuclear issues.
"Iran and Gabon strongly support the destruction and non-proliferation of nuclear weapons as well as the legal rights of NPT members to use peaceful nuclear technology," Mottaki said in a meeting with Gabonese President, Ali Bongo Ondimba.
Bongo also said that Gabon, as a non-permanent member of the UN Security Council, supports Iran's right to use nuclear technology for peaceful purposes.
Mottaki left Gabon for Senegal late Friday.
He arrived in Senegal's capital Dakar on Saturday and was welcomed by his Senegalese counterpart Madicke Niang.
During his stay, Mottaki is scheduled to meet with top Senegalese officials and attend ceremonies marking the 50th anniversary of the country's independence.
/Press TV/