Security forces killed five PKK militants in southeast Turkey in months, military sources said on Thursday.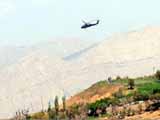 The army launched an operation in Hakkari this week after three soldiers on foot patrol were killed by a bomb. Thousands of soldiers are in the region, the sources said.
A fight broke out in Hakkari province near the Iraqi border on Wednesday, night after soldiers encountered a group of about 20 militants, the sources said on condition of anonymity.
The conflict has claimed 40,000 lives in Turkey.
/World Bulletin/