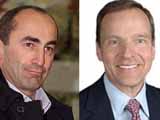 On March 27, OSCE Minsk Group U.S. Co-Chair Robert Bradtke met with Armenia's former President Robert Kocharyan, RFE/RL reports.
Kocharyan's spokesman Victor Soghomonyan confirmed the information. According to him, the meeting was held on the initiative of American side.
The officials discussed issues on the current stage of Nagorno-Karabakh peace process.
/News.am/