Foreign Minister Manouchehr Mottaki on Wednesday described the existing relations between Iran and Algeria as friendly and strategic.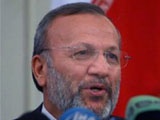 Mottaki made the remarks upon arrival in Algiers on a one day visit aimed at broadening bilateral relations and cooperation between the two countries.
Mottaki and his entourage were officially welcomed at Algiers international airport.
Speaking to reporters, he said during his one-day visit, he is to prepare the grounds for holding Iran-Algeria high committee meeting which is to be held in Tehran in the near future.
Iran's first vice president and the Algerian premier will attend the meeting, Mottaki pointed out.
The Iranian foreign minister is also to deliver an invitation letter from the Iranian president to his Algerian counterpart to attend the Group 15 Summit in Tehran.
The G15 Summit has designed new plans and strategies for expansion of cooperation among its member states, he said.
Mottaki is to confer with the country's high ranking officials on expansion of mutual relations as well as regional developments particularly those pertaining to the Middle East, Iraq, Afghanistan and Palestine.
/Irna/