The Turkish finance minister said on Tuesday that the government was not working on reducing taxes.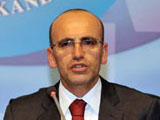 Turkey's Finance Minister Mehmet Simsek said the government was not thinking of reducing value added tax (VAT) and special consumption tax (OTV).
"Around 48.3 billion Turkish liras (TL) (32.2 billion USD) was notified to Turkish authorities within the scope of the law on repatriation of capital in 2009, and 1.6 billion TL (1.06 billion USD) of tax has been accrued," Simsek said during a parliament session.
Simsek also forecast decrease in unemployment figures thanks to the results of 2010-2012 medium-term program.
Turkey reduced OTV in automobiles to 18 from 37 percent between March 16 and June 15, 2009. Then, the government decided to go on with OTV reduction, and set the new OTV as 27 percent between June 16 and September 30, 2009.
The automotive sales were up 30-45 percent during the tax reduction.
Tax revenues were up 16.9 percent in February to 16.1 billion TL (10.7 billion USD) and they were also up 21 percent in January-February period to 33.4 billion TL (22.2 billion USD).
/World Bulletin/