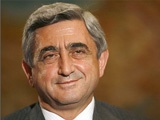 Armenian President Serzh Sargsyan gave an interview to Euronews TV Channel. Among other issues, Sargsyan spoke out about the turkish-armenian relations, the Nagorno-Karabakh problem, and the resolution of the "armenian genocide" in the U.S. Foreign Affairs Committee of the House of Representatives.
Speaking about the turkish-armenian relations, Armenian president said that the issue of re-establishing the relations should be done without any recognitions.
"We are currently in discussions with Turkey on the issue of re-establishing our relations. This should be done without any preconditions, and I think that Turkey has no moral right to blame us about anything or to impose any conditions. Re-establishing relations without preconditions means we are not under any obligations to stay away from any of the possible topics", said S. Sargsyan.
Answering the question about his speech at the Chatham House regarding the Nagorno-Karabakh, Armenian president pointed out, that Armenia is "profoundly interested in swift resolution of the conflict".
Sargsyan also said the following: "To solve this conflict on the basis of three principles of international law: firstly, self-determination; secondly, territorial integrity; and thirdly, the non-use of force. I propose, through you, the media, to appeal to Azerbaijan to sign an agreement not to use force. This would instill trust in the Armenian people of Karabakh and Armenia. And under these conditions of trust we would begin the negotiations for a settlement. We Armenians know very well what Azerbaijan's territorial integrity means".
/News.am/