Turkish Prime Minister Recep Tayyip Erdogan says that imposing additional sanctions on Iran over its uranium enrichment program will not yield any results.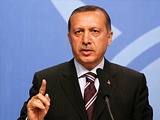 "I don't believe that any further sanctions will yield results," Erdogan told journalists in Riyadh on Tuesday, adding that earlier rounds of sanctions "have never yielded results."
The Turkish prime minister insisted that Iran's nuclear rights should be respected.
"We believe there should be cooperation, not polarization, in the region. We support dialogue and diplomacy for solving the problem about Iran's nuclear program," Today's Zaman quoted Erdogan as saying.
"During the solution process, Iran should be given the right to have civilian nuclear energy meant for peaceful purposes. On the other hand, we want the Middle East to be turned into a nuclear weapons-free zone," the Turkish premier added.
Tehran has repeatedly declared that it will not relinquish the legitimate nuclear rights of the Iranian nation, no matter how much pressure the West imposes. 
/Press TV/