One person was killed and six wounded in a blast that occurred in Kumuri settlement, Vani region of Georgia.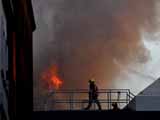 According to Georgian TV companies, the blast occurred in the house of Julakidze family.
38-year old David Julakidze was killed, six people, including guests, were wounded, and were delivered to Kutaisi Centre of Interventional Medicine.
Two of the wounded are in severe condition.
Criminal case has been filed.
No exact reasons have been reported yet.
/Georgia Times/