European Commission President Jose Manuel Barroso and Prime Minister Yves Leterme of Belgium offered their condolences for victims of Monday morning's quake in eastern Turkey.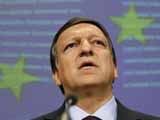 Barroso, in his message, expressed profound sorrow over loss of lives in the quake, adding that the European Commission commiserated with those who lost their beloved ones in the quake.
He added that the European Commission was ready to any assistance Turkey needed to heal the wounds of the quake.
Meanwhile, Prime Minister Leterme of Belgium send a message to Prime Minister Recep Tayyip Erdogan to offer his condolences.
A 6-magnitude earthquake struck the eastern province of Elazig at around 4:30 a.m. killing 57 people as it knocked down stone or mud-brick houses in villages. At least 50 people were injured in the quake which was followed by more than 30 aftershocks, the strongest measuring 5.5 and 5.1. The worst-hit area was the village of Okcular, where 17 people were killed. Another 13 people were killed in the village of Yukari Demirci.
/World Bulletin/