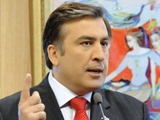 Georgian President Mikhail Saakashvili has approved the initiative by the opposition MP Dmitry Lordkipanidze on the introduction of modern methods to identify drug addicts in state institutions.
At today's meeting of Lordkipanidze and Health Minister Alexander Kvitashvili President ordered the minister to develop a program of checking civil servants for drugs. "This is one of the best initiatives that I have heard in recent years and it does not demean the dignity of citizens, as it is necessary to give just a hair," said Saakashvili.
The President expressed his willingness to first give his hair for analysis. "This is one of the best initiatives and we should carefully listen to the initiatives of the opposition because it is a healthy initiative," he said, noting that after the state institutions, such tests can be arranged in other departments and the private sector, if private companies desire so.
The President stressed that only repressive methods are insufficient for solutions to the problem of drug addiction and it needs to create an atmosphere of social unacceptability of drug addicts. "About 6,000 men have been arrested for drug trafficking, but it does not help, because we need to create a situation where an addict can not find a job, can not marry, is not accepted by his friends and family, and only then it will be possible to talk about solving the problem of drug addiction," he said.
Saakashvili stressed that the new initiative should get wide distribution and be a beginning of a new attack on drug addiction.
/Trend News/