Russia's President, Dmitry Medvedev, said on March 5, that Georgia was increasing its military capabilities with the help "from outside".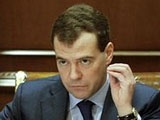 "Unfortunately, not all the countries and politicians have learnt lessons from the developments in August 2008. Unfortunately, restoration of Georgia's military potential still continues and it happens with outside help," Medvedev said at a meeting with top Russian military commanders.
He said that because of this and also because of "difficult social-economic situation in the Caucasus" he had created a new federal district of North-Caucasus in January, when the Southern Federal District was divided to create a new North Caucasus Federal District comprising six of the seven North Caucasus republics, plus Stavropol Krai. Medvedev said that this new administrative division would help to increase coordination among the law enforcement structures.
Medvedev also said that Russian-proposed new European security pact had a potential to create an appropriate format able "to prevent various regional conflicts; first of all on the European continent, including the conflicts similar to the Georgian-Ossetian one."
/Civil.ge/