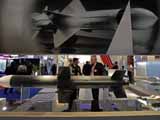 Turkey has recently removed the French missile maker MBDA from a blacklist after an international legal dispute between Ankara and the company ended amicably, Turkey's top defense procurement official said.
One immediate effect: The European missile maker Eurosam, whose biggest shareholders include MBDA of France and MBDA of Italy, will be allowed to bid next month along with Chinese, U.S. and Russian rivals for Turkey's multibillion-dollar program for long-range antimissile air defense systems.
Last year MBDA was not allowed to bid for Turkish weapon contracts because of a dispute over a canceled contract for Eryx anti-tank missiles.
But Murad Bayar, undersecretary for Defense Industry, Turkey's procurement agency, told Hürriyet Daily News & Economic Review on Feb. 15, "From our point of view, the dispute has been resolved and there are no legal or practical barriers against the company from taking part in Turkish contracts."
In 2004, Turkey canceled the Eryx contract, citing delivery delays and operational problems in the program, which had originally called for the production of some 19,000 anti-tank missiles worth 404 million euros for the Turkish military.
The case later went to the Geneva-based International Court of Arbitration of the International Chamber of Commerce. By the time of the Eryx program's cancellation, Turkey had paid 280 million euros for 3,700 missiles delivered by MBDA.
At the International Court of Arbitration, Ankara demanded a reimbursement of 160 million euros, claiming that the delivered missiles were worth only 120 million euros. MBDA claimed that it had invested in a production plant in Turkey, and that investment should be deducted from the reimbursement.
Last summer, the court ordered MBDA to pay Turkey 112 million euros to resolve the dispute, Bayar said. MBDA did so late last year, putting the dispute to rest and regaining Ankara's approval to bid for defense work, he said.
MBDA's removal from the blacklist paved the way for Eurosam's participation in the Turkish competition for air defense systems. Eurosam will be offering its Aster 30 surface-to-air missile systems for that program.
All interested companies are required to submit their bids for that program to the Turkish procurement office by March 1.
Eurosam's rivals in the air defense competition include U.S. Lockheed Martin and Raytheon, with their Patriot Advanced Capability-3 (PAC-3) systems; Russia's Rosoboronexport, marketing the S300; and China's CPMIEC (China Precision Machinery Export-Import Corp.), offering its HQ-9.
The first phase of the program of four fire units is expected to cost between $1 billion and $2 billion. But the cost will rise with the planned purchase of more fire units in the program's follow-up phases.
Turkey is planning to deploy the systems for the defense of the capital Ankara and major defense installations in other parts of the country.
/Hurriyet Daily News/