Muammer Yıldız, Istanbul's provincial director of education, said 10,000 more classrooms are needed in the city in order to attain international education standards.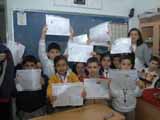 Although the number may be seen as high, 2,000 classrooms are constructed every year, he said, adding that the problem stems from the city's rapid population growth.
Yıldız said the main problem is infrastructure deficiencies, adding that the average number of students is 45 per classroom. "In this city there is an inequality in education: There are some districts where the average number of students is 60 per classroom and in other districts, the number may be down 15 students," said Yıldız.
Infrastructure deficiencies are at their maximum especially at schools in districts such as Sultanbeyli, Esenler, Esenyurt and Sultangazi, he said.
There are 3,136 schools in Istanbul. The number of classrooms increased from 52,000 to 54,000 over the past year while the number of teachers went up from 86,446 to 93,161 over the same period, he said.
Meanwhile, the number of students has increased from 2,355,000 to 2,456,000.
Yıldız said there is continuous migration to Istanbul from the rest of Turkey, thereby causing an increase in student numbers. "If we want to reduce the average number of students per classroom to 44, we need to build 1,200 classrooms. There is a constant increase in the numbers of schools, classrooms and teachers every year. The average number of students remains at 45 per classroom.
Educational problems and classroom shortages are at its peak in areas where settlement is relatively new, Yıldız pointed out.  He believes, however, the problem of classrooms will be solved soon with the cooperation of philanthropists and the government.
The shortage of classrooms cannot be solved by building new schools and classrooms every year, Yıldız claimed, adding that a different point of view needs to be adopted. Yıldız said they are working on different methods and are especially exploring leasing capacities.
Expropriation problem
The director said they have difficulty in finding land on which to build schools. "Even if we find a proper lot, then the expropriation prices are too high."
Underlining the fact that it costs 10 million Turkish Liras to build a school with 24 classrooms, he said they already receive huge support from local administrations and that land donations would be a colossal help to the provincial education directorate.
The pre-school education ratio in Turkey is 45 percent. This figure, however, is only 23 percent in Istanbul, he said, adding that pre-school education had become a priority of the Education Ministry in recent years.
Yıldız said pre-school education can provide a significant contribution to children's development and that his team was determined to increase the pre-school education rate in Istanbul in the near future.
The directorate was also considering building prefabricated kindergartens at schools that have suitable space in their yards, he said.
The biggest problems for education in Istanbul are crowded classrooms and a lack of teachers, which have damaging impacts on students' success, according to the director.
"When making a list of the 39 districts of Istanbul based on their academic achievements, we can easily see that those districts with higher academic achievements also have a higher socioeconomic level and almost no teacher deficit," Yıldız said.
The school participation rate is 98.6 percent in Istanbul yet there are more than 10,000 children not included in the education system, Yıldız said, adding that the directorate was focusing on finding schools for these children.
/Hurriyet Daily News/