Atomic Energy Organization of Iran Director Ali-Akbar Salehi says the door to talks on a nuclear swap deal with the West is still open.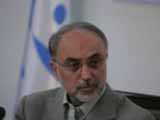 "We have the capability to enrich uranium to any percentage we wish, but we asked the [International Atomic Energy] Agency to ask other countries that could supply the 20-percent [enriched uranium] because we did not want to go beyond five percent. But they did not respond," Salehi said on Tuesday.
He stated that Iran could not let its Tehran Research Reactor, which needs 20-percent enriched uranium, run out of fuel because it produces medical radioisotopes for about 850,000 patients in Iran.
"All we have asked the West or countries that have the capacity to produce the fuel is 'Please supply us with the fuel,'" he explained.
Salehi said that Iran is still ready to send its 3.5-percent enriched uranium abroad when it receives the 20-percent enriched nuclear fuel.
"It should be simultaneous, and we accept the custody of the agency in Iran. The uranium can be under the custody of the agency in Iran and it could be sealed until the time we receive the 20-percent enriched uranium from the outside," he added.
"So the deal is still on the table. If they come forward and supply the fuel, then we will stop the 20-percent enrichment," Salehi said.
/Press TV/