Iran is studying the case of two German Embassy staffers linked with the recent post-election unrest in the country, a diplomat close to the case said Sunday.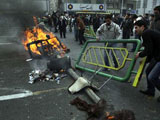 "We are looking into the case and the result will be announced after the investigation is finalized," the source said.
Iran's Intelligence Ministry said Wednesday it had found evidence that the staffers played a role in last month's "counterrevolutionary riots" in Tehran.
"Anti-Islamic Revolution agents, networks backed by Western intelligence services" and those who seek to promote sedition in the country had planned the Ashura riots in advance, the Islamic Student's News Agency quoted a deputy intelligence minister as saying.
The Intelligence Ministry has confirmed the staffers were detained but were released after their identities were confirmed.
On Wednesday, German news agency DPA said the two German nationals were police officers who worked at the embassy.
According to the Iranian ministry, the two Germans had set up a network comprising of young Iranians to collect information on events in Iran.
Germany has rejected the accusations.
"We deny the allegations that German diplomats played a role in last month's anti-revolution riots in Tehran," DPA quoted Foreign Minister Guido Westerwelle as saying on Wednesday.
The German magazine Der Spiegel reported Saturday that Germany has recalled the two policemen from the embassy in Tehran.
/Press TV/