Turkish prime minister said on Sunday that 2011 would be the year of election for Turkey.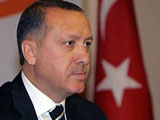 Speaking at a TV program broadcast on Turkish Radio Television (TRT), Prime Minister Recep Tayyip Erdogan said that general elections might be held some time earlier than July 2011 due to weather conditions.
"However, nothing other than that can be considered. We will hold the elections on the scheduled time," Erdogan said.
"Turkey should get used to this. We should not be a primitive country that changes its government every 16 months," he also said.
/World Bulletin/