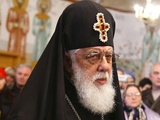 Ilia II, Catholicos Patriarch of All Georgia, asked the EU to intensify its attempts on return of Abkhazia and South Ossetia into Georgia's control.
After his meeting with Per Eklund, head of European Commission, he stated that "situation with neither war nor peace can in no way favour the improvement of the situation. Today our country is suffering from integrity violation, and we ask the European Union to be more active."
Eklund, in his turn, thanked the Patriarch for finding time to meet with him.
He highlighted that in the course of the meeting issues of territorial integrity of Georgia, further democratization, conducting reforms and local elections, were discussed.
/Georgia Times/