Georgia hopes to obtain permission to conduct youth Olympics in 2015.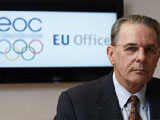 Patrick Hickey, president of European Olympic Committees, arrived in Tbilisi past Saturday on occasion of 20th anniversary of the national Olympic Committee in Georgia.
He said the country have significant chances to conduct youth Olympics.
The national committee was 20 in October 2009.
The celebration is has been lasting for several months.
Hickey appraised the construction of new sport complexes in Tbilisi and expressed hope new champions would be trained.
Hickey is head of the Olympic Committee of Ireland, head of delegation, including also presidents of four national Olympic committees.
Mamuka Akhvlaediani, Vice mayor of Tbilisi, promised that Olympics will be held "on high world level," if allowed to be conducted in Tbilisi.
Gigi Ugulava, Mayor of the capital, granted Hickey the title of honorary citizen of Tbilisi.
/Georgia Times/