The Minister of Refugees and Resettlement Koba Subeliani has summed up the work of his ministry in 2009 at the briefing today.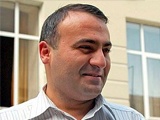 The minister said the prior task of the ministry this year was providing IDPs with rooms and the process of legalizing these rooms for them.
He said 15,000 families from Abkhazia have been given rooms in their legal possession and these rooms will remain as their legal property even if they return to their homes in Abkhazia.
"As for the repair works of the rooms to IDPs, we have repaired 243 objects in 2009 and we plan to repair 100 others next year. Our key task in 2010 will be providing lodgings to as many refugees as possible," Subeliani said.
According to the minister, 100 millions have been spent on the problems of the IDPs in 2009.
The funds allocated for the ministry are similar in 2010.
/Georgia Times/