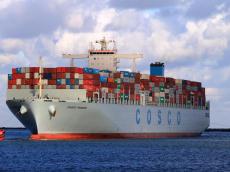 By  Trend
President Donald Trump's decision to withdraw from the 2015 landmark nuclear deal with Iran and impose sanctions on any businesses operating in the Middle Eastern country has prompted a number of European companies to pull out of the Islamic Republic, Sputnik news reported.
Speaking at an economic conference in the French city of Aix-en-Provence on Saturday, the shipping group CMA CGM's chief, Rodolphe Saade, announced that the firm had decided to leave the Iranian market in the face of potential secondary sanctions by the United States.
"Due to the Trump administration, we decided to end our service for Iran. Our Chinese competitors are hesitating a little, so maybe they have a different relationship with Trump, but we apply the rules," he said.
He then elaborated that his firm's cooperation deal with local partner IRISL had been suspended and the company didn't want to risk their large US presence by failing to abide by the rules.
Last month, France's Finance Minister Bruno Le Maire told RMC that "most" French companies "[would] not be able" to stay in Iran after the Trump administration decided to renew anti-Tehran sanctions.
The European Union has been struggling to avoid the potential secondary sanctions that Washington threatened to impose on European firms operating in Iran if they failed to wind down their activities in the country.
Even though the EU activated a 1996 Blocking Statute, which allows its companies to continue to trade with Iran, a number of firms, including French oil and gas giant Total and car manufacturer PSA, have announced they are unlikely to preserve their presence in the Islamic Republic.