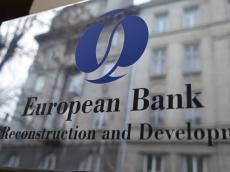 By  Trend
The European Bank for Reconstruction and Development (EBRD) has invested over 250 million euros in Turkmenistan's medium-sized private companies, the EBRD told Trend.
"Medium-sized private companies, including those in the agriculture and food production sectors, are one of the main priorities for the EBRD in Turkmenistan, where the EBRD has so far invested over 250 million euros," said the bank.
Ninety percent of the Bank's investments in the country support local small and medium-sized enterprises (SMEs), said the EBRD.
The bank also answered a question about possibility of issuing a loan for further development of Turkmenistan's Galkynysh gas field.
"We certainly don't want to speculate on what may happen to an individual project. Once it reaches a certain stage we publish a project summary, which is available on our website," said the EBRD.
President of Turkmenistan Gurbanguly Berdimuhamedov has recently ordered to intensify work to attract foreign investment for the development of the Galkynysh gas field.
The Turkmenistan-Afghanistan-Pakistan-India (TAPI) gas pipeline, construction of which began in December 2015, originates from this source of raw materials. The head of state instructed to speed up the implementation of the project of construction of this transnational energy bridge.
Galkynysh is the second largest gas field in the world and is already one of the raw sources of Turkmen gas supplies to China. According to independent audit, the reserves of Galkynysh field together with the Yashlar and Garkel fields total to 27.4 trillion cubic meters of gas.
In July 2017, it was announced that in the near future it is planned to start the third stage of the development of Galkynysh field, which will increase the production capacity by another 33 billion cubic meters of commercial gas per year with the expectation of supplies to South Asia.
To date, production facilities of the first stage, with a capacity of 30 billion cubic meters of commercial gas per year, have been commissioned here, and in 2014 the second stage with a similar capacity was launched.