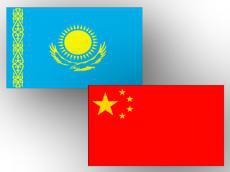 By Azernews
By Kamila Aliyeva
Kazakh President Nursultan Nazarbayev revealed information about major projects and enterprises wherein Chinese businessmen are interested to invest, Kazinform reported.
"I always said that we need a fourth oil refinery. Now we have reconstructed [existingoil refineries], and it's enough, but in 3-4 years there will be not enough fuel and lubricants again, and so we need another oil refinery," he said.
It was agreed that Chinese investments will account for 50 percent, according to the Kazakh leader.
"It costs about $2 billion. Who will invest in Kazakhstan in such an amount? In Western Kazakhstan there is a question of polyethylene production. First, polypropylene, then polyethylene – so called gas-chemical plant – it is very expensive, both in terms of equipment and volume. But, we were able to find mutual understanding," the head of state said at a press conference in China.
Due to Kazakh-Chinese cooperation aluminum production will also develop, he noted.
"Pavlodar aluminum plant: we sold just alumina. Now, thanks to these companies, we produce 250,000 tons of metal aluminum, another 200,000 tons are being developed within a second phase - the production of pure aluminum. This has a completely different price than simply alumina or enriched aluminum. And these facilities cost $800 million," Nazarbayev noted.
In Kazakhstan, due to Chinese investments, several more enterprises will appear.
"I knew for a long time that there is a huge copper deposit Koksay, in the Almaty region - in the center between Saryozek to Taldykorgan. We agreed that with the development of these deposits in the Almaty region, a giant mining and metallurgical combine will emerge. The Aktogay Ore-Dressing Combine is a giant combine that already produces concentrate. As many as 40 million tons of ore is recycled there. Now we agreed to build another plant in Pavlodar. It already exists, last year it was launched, now it is a matter of expansion," the Kazakh head of state concluded.