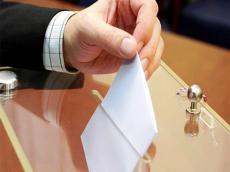 Trend:
Election of Armenia's new prime minister will take place on May 1, said Ara Babloyan, chairman of the National Assembly (NA) of Armenia, TASS news agency reported.
"On May 1, the country's parliament will hold a special meeting to elect a new prime minister," Babloyan said, according to his press service.
On Monday, Serzh Sargsyan, formerly the president who was elected as the prime minister by the parliament on April 17, resigned amid mass protests that broke out across the country on April 13.
Under Armenia's constitution, within seven days after the premier's resignation the parliamentary factions have the right to nominate candidates for the prime minister, and after that the elections of the head of cabinet are held by an open vote.
The opposition demands that "people's candidate" Nikol Pashinyan be elected as the head of government. The ruling Republican Party agreed to hold early parliamentary elections, but said the opposition's demand was unconstitutional.