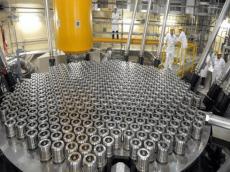 Trend:
Russia and Iran discussed the latest progress of the joint nuclear projects.
Rosatom's Deputy Director General for International Affairs Nikolai Spassky and Behrouz Kamalvandi, deputy head of Iran's Atomic Energy Organization (AEOI), met in Tehran to discuss the nuclear projects under implementation by Russian company in Iran, the AEOI press office said April 25.
During the meeting, the latest status of ongoing projects, including the process of building phases 2 and 3 of the Bushehr nuclear power plant in southern Iran, the project to produce stable isotopes at Fordow site, cooperation in the production of fuel for research nuclear plants were discussed.
The two sides also discussed implementing the Joint Comprehensive Plan of Action (JCPOA aka nuclear deal), its perspective and the sides' commitments under the deal.
In an agreement between the AEOI and Rosatom, phases 2 and 3 of Iran's Bushehr nuclear power plant will begin supplying electricity to Iran's power grid in 10 years.
Iran plans to produce 20,000 megawatts of nuclear-generated electricity.
Each of the two new phases will produce 1,057 megawatts of electricity. Combined with phase 1, Iran will produce some 3,300 megawatts of nuclear-generated electricity in a decade.
Iran's 1,000-megawatt Bushehr plant was connected to the national grid in September 2011.