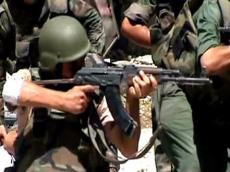 By  Trend
Syria's army and its allies, spearheaded by Lebanon's Hezbollah, captured Islamic State's last stronghold in Syria on Wednesday, a commander in the alliance said, bringing the self-declared caliphate close to complete downfall, Reuters reported.
"The last stronghold of Daesh (Islamic State), Albu Kamal, is free of the Daesh organization," said the commander in the military alliance supporting Syrian President Bashar al-Assad.
Islamic State has been all but destroyed over the past two years. At the height of its power in 2015, it ruled an expanse of Iraq and Syria, eradicating the border, printing money, imposing draconian laws and plotting attacks across the world.
On Wednesday, after a months-long advance through central and eastern Syria, the Syrian army and allied Shi'ite militias encircled and attacked Albu Kamal.
Hezbollah was "the foundation in the battle of Albu Kamal", said the commander, adding that hundreds of the elite forces of the Iran-backed Shi'ite group took part in the battle.
Syrian state television declared "Albu Kamal is liberated". But a war monitor, the Britain-based Syrian Observatory for Human Rights, said it was not true that Albu Kamal was taken and there was still fighting in the area.
Albu Kamal is located on the border with Iraq on the bank of the Euphrates. During the battle, Hezbollah forces entered Iraq and the Iraqi Popular Mobilisation Forces crossed into Syria to help capture the town, the commander said.
Islamic State retains control over some areas of desert and villages nearby, as well as a town and some other villages in adjacent areas of Iraq, and in scattered pockets elsewhere in both countries.