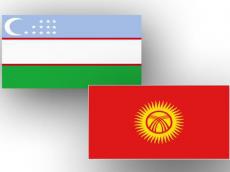 By Azernews
By Kamila Aliyeva
Kyrgyzstan is the key foreign trade partner of Uzbekistan among the CIS countries.
This was stated in the message of Uzbekistan's State Statistics Committee, Kabar news agency reported.
Uzbekistan-Kyrgyzstan trade turnover rose by twofold in the first half of the current year and it is expected that the volume of bilateral trade will total $280 million in late 2017.
Russia, Kazakhstan, Ukraine, Tajikistan are among other main economic partners in the CIS countries, which account for 28.6 percent of the foreign trade turnover.
Other countries such as China, Turkey, South Korea, Germany, Afghanistan, Brazil, India, Latvia, Iran, France, Lithuania, the U.S., Italy account for 40.4 percent of the total foreign trade turnover.
The foreign trade operations of the residents of the republic are mainly carried out with Asian countries (45.7 percent of the total turnover), Europe (44.2 percent) and America (2.6 percent), which account for 92.5 percent of the total turnover.
The foreign trade turnover of Uzbekistan in January-September 2017 amounted to more than $19.95 billion.
In 2016, the volume of foreign trade amounted to $5.4 billion and demonstrated a decrease by 1.4 percent compared with 2015. Agricultural and engineering products occupied the largest share in the structure of exports. Last year the volume of coal exports amounted to 29.2 percent, glass products to 27.4 percent, ores and precious metals to 45.4 percent in the total export structure.
Kyrgyzstan's economy advanced 3.8 percent year-on-year in 2016, compared to 3.5 percent growth a year earlier. Industrial output increased by 4.9 percent, driven by metal ores, manufacture of refined petroleum products, food products and production of precious metals.
In 2016, the GDP growth has reached 3.8 percent. The forecasts say that the real GDP growth of Kyrgyzstan will be 2.9 percent in 2017. The risks which can affect the GDP growth in 2017 are instability of the global economy, dependence of the economy on world prices for gold and energy resources, risks for increase of inflation due to the growth of food prices and others.