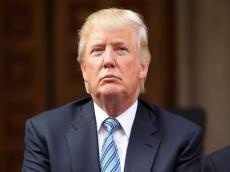 By Azernews
By Kamila Aliyeva
A mid-October deadline for recertifying Iran's compliance with the Joint Comprehensive Plan of Action (JCPOA) is coming closer with the U.S. president being opposed by the Congress on the future of the agreement.
U.S. President Donald Trump intends to announce the cancellation of the nuclear deal with Iran next week, the Washington Post newspaper reported.
"President Trump is expected to announce next week that he will 'decertify' the international nuclear deal with Iran, people briefed on the White House strategy towards Iran said on October 5," the newspaper said.
It is believed that Trump would not recommend the Congress to re-impose sanctions in order to reach a compromise with many congressional leaders who stand for keeping the deal at least with some changes.
U.S. Secretary of State Rex Tillerson stated on Wednesday that the administration is ready to offer president some options on the fate of the nuclear deal.
Both Defense Secretary Jim Mattis and the chairman of the Joint Chiefs of Staff General Joe Dunford spoke for preserving the nuclear agreement at a hearing in the Senate Armed Services Committee earlier this week.
Mattis suggested not leaving the agreement on Iranian nuclear program, since there is currently no evidence of violations by Tehran and it meets the interests of Washington. Dunford also told the panel Iran "is not in material breach" of the agreement, contending that the pact has "delayed the development of a nuclear capability by Iran."
The Iran nuclear deal was negotiated in July 2015 between Iran, the five permanent members of the United Nations Security Council and Germany. By ratifying the plan, Iran agreed to scale down its nuclear activities in exchange for sanctions relief.
At the same time, the U.S. retains sanctions against Iran on the missile program, human rights and on suspicion that Tehran sponsors terrorism.
Currently, Washington insists on inspections of Iran's military facilities by the IAEA (International Atomic Energy Agency) under the JCPOA. However, Tehran rejects such inspections.
The presidential administration was previously instructed to review its policy on Iran, not only looking at Tehran's compliance with the nuclear deal but also its behavior in the region.