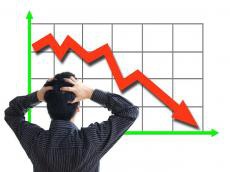 By Azernews
For a very long time, ordinary Armenians believed that there was going to be an economic growth somehow in future.  But, the authorities failed to fix social and economic situation, instead doubling the problems.
While the Armenian government brags of its "suspicious" achievements, the pace of economic growth in the country began to decline quickly.
The National Statistical Service has revealed the summary data for January-August 2017, which showed the real socio-economic situation in the country, newspaper Zhoghovurd notes.
The data says that the economic activity index in August equaled to 5.5 percent, while the figure was 6.2 percent in July.
The growth rate of industrial production has slowed down –a decline of 0.9 percent. Electricity generation in August compared to the previous month decreased by 9.2 percent, and the turnover – by 2.2 percent.
Meanwhile, the decline in agricultural production and construction sector also continued in August – falling by 9.4 and 8 percent, respectively.
The only economic indicator that showed growth is the state debt of Armenia.  The figure already exceeded $6.2 billion, according to the National Statistical Service. In comparison, last year the state debt was considerably less – $5,849 billion.
Another one of Armenia's persistent socio-economic problems is unemployment. Its rate in the country is still the highest among the CIS countries, making up 19 percent, and due to the wrong structure of national economy, new vacancies do not seem to come up in near future. Moreover, Armenian employees are suffering from delay in salaries, non-payment of salaries for the holiday period and unlawful dismissal.
The Armenian economy could have been revived if the government was able to attract foreign investment, but this option is unreal enough. Both foreign investment in the Armenian economy and net inflow of private transfers into the country have been sharply declining in recent years.