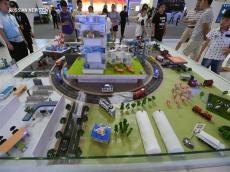 By Azertac
The 2017 World Internet of Things Exposition (WIOT) kicked off in Wuxi.
More than 5,300 companies and over 9,000 guests from the IoT industry attend this year's WIOT. A number of Fortune 500 companies and heavyweights from the tech industry like IBM, Microsoft, Alibaba, and Tencent are to catch eyes with their latest research results and products.
According to the Xinhua News Agency, the organizers of the current exposition are the Ministry of Industry and Information Technology (MIIT), Ministry of Science and technology of the Chinese government of Tszyansu province.
Jack Ma, chairman of China's e-commerce giant Alibaba Group, delivering a speech on how the internet of things might impact the future at the WIOT (World Internet of Things Exposition) Summit, said that the traditional economy will be affected by the outcomes of internet, automatization and robotics for decades to come. "That's why in order to reduce the impact of automatization and online economy, we need to transform the whole education system, by learning how to work with robots and how to co-exist with them", he said.