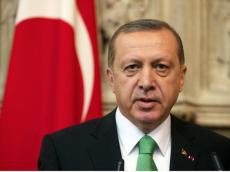 By  Trend
The criminal case initiated on September 7 in the US against former Turkish Economy Minister Zafer Caglayan, who is accused of supporting projects for the development of Iran's economy, is of political nature, Turkish President Recep Tayyip Erdogan said, the country's media reported on September 8.
Erdogan noted that the decision made by the Office of New York State Attorney General is in fact directed against Turkey.
Erdogan went on to add that Turkey has never supported sanctions against Iran.
The Office of New York State Attorney General also accused Caglayan in creating illegal funds for money laundering. Along with Caglayan, similar charges were brought against Suleyman Aslan, former head of Turkey's Halkbank.