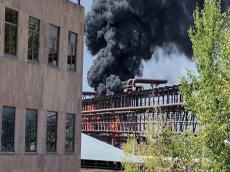 By Azernews
By Ali Mustafayev
Anyone living in Armenia knows that it is absolutely in vain to expect help from the government whether it's an economic problem or just informing people about disaster.  
The recent fire that erupted in Nairit factory in Yerevan proved this once again, as no one informed people residing close to the plant about possible dangers and consequences.
Despite state agencies assurance that the levels of toxic substances in air does not exceed the norm following the fire at the chemical plant, those living near the Nairit factory increasingly complain on bad feelings and problems with health.
"I have 8 grandchildren, the youngest of them is a newborn, and on that day we all were breathing that toxic smoke, our home is covered with soot," a citizing residing close to Nairit told local media.
"We were feeling sickness and dizziness the whole day. We were in the most dangerous zone and no one – Emergency Situations Ministry, Health Ministry, none of relevant state agencies helped use. They even failed to instruct us what to do, how to protect ourselves, what should we do to keep ourselves from poisoning."
The former worker of the Nairit factory, Grachik Mirzoyan, also noted that a large amount of soot was emitted to the air during the fire.
"It cannot be called smoke, smoke has different consistency. It was a process of incomplete combustion, since the emission of soot is a characteristic result of this process. This kind of combustion results with emission of a big dose of carbon monoxide into the air. Nevertheless, the relevant entities of the Nature Protection Ministry didn't analyze these materials. It turns out that we are looking for the things that don't exist and we are not looking for the really existing things. Why this all happens? I think the entities of the Nature Protection Ministry must answer this question," said Mirzoyan.
A fire in the "Nairit" factory erupted on 28 August after four reservoirs of Lac-ethanol caught fire.
The Armenian officials stated that the fire has no dangerous consequences, but a large number of complaining local residents makes the official statements unclear. The investigation into the cause and outcome of the fire is still being conducted.