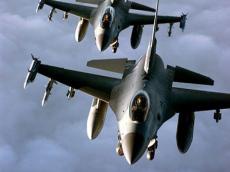 By Azernews
By Ali Mustafayev
The world is holding its breath as American leader Donald Trump has promised 'fire and fury', while North Korean Kim Jong-un has threatened a missile strike on Guam. 
Kim Jong-un warned that he was 'carefully examining' plans to make 'an enveloping fire' around the U.S. Island of Guam. Kim further added that the U.S. that it would 'pay dearly' for UN sanctions it successfully imposed over the weekend.
The remarks followed President Donald Trump's warning that North Korea faces 'fire and fury like the world has never seen' over its nuclear programme. 
"North Korea best not make any more threats to the United States," Donald Trump told journalists at his club in Bedminster, New Jersey. "They will be met with fire and the fury like the world has never seen."
Later, the U.S. released images of supersonic bombers flying over the Korean peninsula, while North said the training mission 'proves that the U.S. imperialists are nuclear war maniacs'.
North Korea's news service said earlier this week, "There is no bigger mistake than the United States believing that its land is safe across the ocean." It threatened retaliation for new sanctions "thousands of times" over.
Amid the strained North Korea-U.S relation, Japan announced on August 8 that it was possible that North Korea had already developed nuclear warheads.
The military report warned of an acute threat posed by North Korea's weapons programs as Pyongyang continues a series of missile and nuclear tests in defiance of U.N. sanctions.
The growing threat has prompted Japanese municipalities to hold evacuation drills in case of a possible missile attack, and boosted demand for nuclear shelters.
Meanwhile, the Command of Japanese Air Force announced that joint military exercise was held together with the US Air Force in Japanese airspace near the Korean peninsula.
Two U.S. Air Force B-1B bombers from Guam's military base participated in a strategic bilateral mission with South Korea and Japan hours before North Korea threatened to strike Guam. 
Previously, UN Security Council adopted new sanctions against the North Korea, reducing the Korean export of coal, iron and lead ores and seafood, which will reduce the country's foreign-exchange income up to two thirds.
Pyongyang ignores the international community's pretensions regarding violation of human rights and its nuclear power programs for many years.