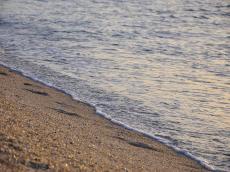 By Azernews
By Ali Mustafayev
The Hazar State Natural Reserve of Turkmenistan has long ago engaged in preserving habitats of waterfowl and water-birds.
Among the key goals of the reserve, which can be regarded as ornithological, is to protect birds migrating here from Northern countries, such as Russia and Kazakhstan, during winter, spring and autumn, the State Committee for Environmental Protection and Land Resources of Turkmenistan reported.
The Hazar State Nature Reserve began operating in 1932. The Ramsar Convention on Wetlands, ratified by Turkmenistan in 2008, which is of great importance for the habitats of water-birds, allowed to include the northern water area of the Reserve among reserves of the international importance.
Such valuable species as beluga, sturgeon, stellate sturgeon, whitefish, herring, mullet, pike perch and others inhabit the Turkmen sector of the Caspian Sea.
The State Committee informs that 55 of 65 familiar species of Caspian sea-fish inhabits Turkmen sector of Caspian Sea. There are also 5 species classified under the Red List, which inhabit the reserve.
Over the years, three reserves were created on shores of the Caspian Sea, namely, on the territory of Russia, Azerbaijan and Turkmenistan.
The Caspian Sea is the biggest enclosed body of water on Earth, with enormous deposits of oil and gas as well as rich fisheries. 
The Caspian Sea, a home to about 141 fish species, is rich with natural resources. The resource-rich basin of the Caspian Sea has been in the spotlight of the coastal nations – Azerbaijan, Kazakhstan, Russia, Turkmenistan and Iran.
The Caspian Sea is endorheic, meaning it has no natural outlets. More than 130 rivers flow into the Caspian Sea, according to Natural History Magazine, none of which are in the east. The primary tributary is the Volga River in the north, which provides about 80 percent of the inflowing water.
The Ural River, also in the north, and the Kura River in the west, are also significant tributaries. The inflowing fresh water from these rivers dilute the water. Salinity changes from north to south, from 1.0 to 13.5 parts per thousand (ppt), 
There are approximately 50 small, mostly uninhabited islands in the Caspian Sea, according to New World Encyclopedia. Most are in the north, but the largest island, Ogurja Ada, is in the south. 
Despite its name, the Caspian Sea can be called either a lake or a sea.