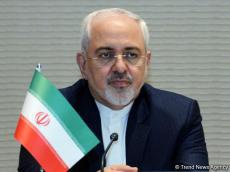 By  Trend
Iran has no intentions of aggravating already strained relation between Tehran and Riyadh, Foreign Minister Mohammad Javad Zarif has said.
"Mending fences with Saudi Arabia would require bilateral respect and recognition of common interests, as well as the cessation of policies that lead to regional war and extremism," Zarif told ILNA news agency, Aug 9.
These remarks come shortly after the recent exchange of handshakes between Zarif and his Saudi counterpart Adel al-Jubeir on the sidelines of the Organization of Islamic Cooperation's (OIC) meeting in Turkey.
After years of tensions, these signs can be easily interpreted as a demonstration of the interest in normalizing ties between two regional rivals.
Prominent Iraqi Shia leader Muqtada al-Sadr had arrived in the Saudi port city of Jeddah on Sunday. Sadr had planned to confer with several officials of the Saudi Kingdom, fueling speculations about the purposes of the visit and the place Iran might have occupied on the visit's agenda.
Iran and Saudi Arabia have been at loggerheads since the outbreak of unrest in Syria in 2011. Iran supports President Bashar al-Assad, while Riyadh calls for his ouster.
Saudi Arabia, a main backer of Syrian rebels, said on Sunday that it still supporting international agreement on the future of Syria and that al-Assad should have no role in any transition to peace.
Saudi Foreign Ministry denied media reports that Saudi Arabia was considering a political transition with Assad staying in power at the initial phase.