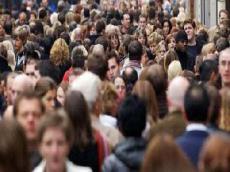 By  Trend
The permanent population has increased by 224,500 people (0.7 percent) since early 2017 and amounted to 32.345 million people in Uzbekistan as of July 1, 2017, the Uzbek State Statistics Committee said in a report.
Some 50.6 percent of the total population accounts for towns, while 49.4 percent accounts for the countryside, the report said.
According to the report, some 311,900 people were born in Uzbekistan in the first half of 2017.
Some 78,800 deaths were registered in the country during the reporting period, according to the report.
Some 82,500 migrants arrived in Uzbekistan in January-June 2017, while 91,000 people left the country, the report said.
The number of people engaged to work in the economy reached 14.162 million people in Uzbekistan in January-June 2017, which is 1.7 percent more than in the first half of 2016, the report said.c